Roll over image to zoom in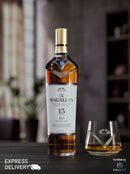 Description
There's a bit of vanilla, dried apricots and yellow peaches. As it develops, there's a nice bit of toffee that evolves into cinnamon and nutmeg. Palate: Sweet orange marmalade and candied orange peel to start. Then comes raisins, toffee and cooked ginger.
Country: Scotland
Size: 0.70L
Packaging Details: 70Cl bottle with box
Alcohol Level: 43
Meminum Arak Boleh Membahayakan Kesihatan.

Hanya dijual kepada golongan umur 21 tahun ke atas dan bukan muslim sahaja.
We think you might want this too :D