Roll over image to zoom in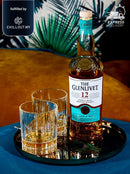 Description
THE GLENLIVET 12 Year Old. This whisky has been called a lot of things in its time. It was smooth, fruity, complex, sophisticated, entertaining and classic. The Glenlivet 12 representing The Glenlivet's signature style. This classic malt is first matured in traditional oak, before spending time in American oak casks which impart notes of vanilla and gives the whisky it's distinctive smoothness. The mineral-rich water that comes from Josie's Well help to form the flavours during mashing and fermentation. However the specific height and width of the copper stills add a delicate yet complex character to the whisky. Keep a bottle on hand for every occasion.
Country: Scotland
Size: 0.75L
Packaging Details: 75Cl bottle with box
Alcohol Level: 40
Meminum Arak Boleh Membahayakan Kesihatan.

Hanya dijual kepada golongan umur 21 tahun ke atas dan bukan muslim sahaja.
We think you might want this too :D