Roll over image to zoom in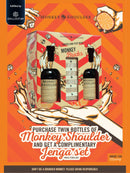 Description
Introducing Monkey Shoulder, Premium Blended Malt Scotch Whisky
A bold & versatile blended 100% Malt whisky made for mixing, Monkey Shoulder is made up of small batches of different speyside Single malt whiskies expertly blended then married together.

Vibrant and fruity flavours
Richness and vibrancy combine with fruity aromas and mellow vanilla notes, making it the perfect whisky for mixing. Try a Lazy Old Fashioned cocktail by mixing a splash of Monkey Shoulder with sugar syrup, ice and a dash or two of Angostura bitters. Then just strain and top with a twist of orange peel.

Blended by experts
Monkey Shoulder is created by William Grant & Sons, an award winning family-run company that's been making Scotch whisky since 1887. Expert blenders marry small batches of different single malt whiskies to bring great scotch to a new generation of whisky drinkers.
Country: Scotland
Size: 0.70L
Packaging Details: 2 x 700ml bottle with a Jenga Set
ABV: 40%
Meminum Arak Boleh Membahayakan Kesihatan.
Hanya dijual kepada golongan umur 21 tahun ke atas dan bukan muslim sahaja.
We think you might want this too :D