Roll over image to zoom in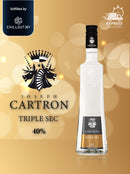 Description
This is an excellent liqueur, which is created from the sweet oranges from Brazil and Florida, as well as bitter oranges from Sicily and Côte d'Ivoire (Ivory Coast). Orange peel insist on alcohol distillation in copper boilers resulting alcohol is mixed with sugar and soften the water, then filtered and bottled liquor.
Country: France
Size: 0.70L
Packaging Details: 70Cl bottle
Alcohol Level: 40
Meminum Arak Boleh Membahayakan Kesihatan.

Hanya dijual kepada golongan umur 21 tahun ke atas dan bukan muslim sahaja.
We think you might want this too :D