Roll over image to zoom in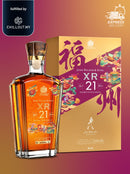 Description
The first noticeable element on the Foochow Pack is the Sibu Foochow Association in Sarawak — home to a portrait statue of Huang Nai Shang, a scholar and community leader who brought in the first group of Foochow immigrants to help develop the settlement and build a successful port in Sibu. The illustration also highlights the Three Heads and Three Knives that represent the Foochow community's contribution and skill sets used to make a living after settling down in Malaysia. Prominently visible are also Foochow traditional food such as red wine noodles, Foochow kompia and Lo Qu Biang that depict longevity and auspiciousness. Lastly, the Aojiu Festival represents the worshiping of ancestors through the preparation of Foochow porridge on the 29th day of the first lunar month.
Country: Scotland
Size: 0.75L
Packaging Details: 75Cl bottle with box
Alcohol Level: 40
Meminum Arak Boleh Membahayakan Kesihatan.

Hanya dijual kepada golongan umur 21 tahun ke atas dan bukan muslim sahaja.
We think you might want this too :D