Roll over image to zoom in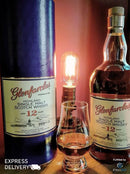 Description
A little bit of malt melts with impressions of almonds, vanilla and pineapple. Glenfarclas develops a sweet-fruity taste and shows the palate only the best of itself. An unmistakable peat smoke envelops the tongue and surprises with an outstanding presence.
Country: Scotland
Size: 0.70L
Packaging Details: 70Cl bottle with metal cylinder
Alcohol Level: 43
Meminum Arak Boleh Membahayakan Kesihatan.

Hanya dijual kepada golongan umur 21 tahun ke atas dan bukan muslim sahaja.
We think you might want this too :D