Roll over image to zoom in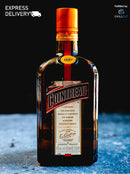 Description
One of the best-known brands of the triple sec style of orange liqueur. The drink was first released in 1875, and is made using a mix of sweet and bitter orange peels and sugar beet alcohol. Cointreau has a crisp, smooth, orange flavor.
Country: France
Size: 0.70L
Packaging Details: 70Cl bottle
Alcohol Level: 40
Meminum Arak Boleh Membahayakan Kesihatan.

Hanya dijual kepada golongan umur 21 tahun ke atas dan bukan muslim sahaja.
We think you might want this too :D