Roll over image to zoom in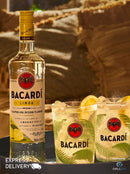 Description
Named after the spanish word for lemon, Bacardi Limon is a carefully crafted product that infuses Bacardi rum with the essence of the royal family of citrus fruits: lemon, lime and grapefruit.
Country: Puerto Rico
Size: 0.70L
Packaging Details: 70Cl bottle
Alcohol Level: 32
Meminum Arak Boleh Membahayakan Kesihatan.

Hanya dijual kepada golongan umur 21 tahun ke atas dan bukan muslim sahaja.
We think you might want this too :D