Roll over image to zoom in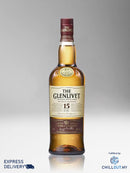 Description
The Glenlivet 15 Year Old gets its distinctive rich and exotic character from a process of selective maturation in which a proportion of the spirit is matured in French oak casks. In fact, The Glenlivet were one of the first to use French oak for making whisky, a technique that has since been imitated the world over. The Limousin oak used is cut in France's Dordogne region, where it's often used to mature cognacs. Its low density allows whisky to sink deep into the wood, and The Glenlivet distillers carefully control how long the whisky matures in the casks so as not to overpower the desired result: a unique, pleasing spiciness.
Country: Scotland
Size: 0.70L
Packaging Details: 70Cl bottle with box
Alcohol Level: 40
Meminum Arak Boleh Membahayakan Kesihatan.

Hanya dijual kepada golongan umur 21 tahun ke atas dan bukan muslim sahaja.
We think you might want this too :D