Roll over image to zoom in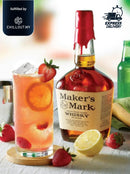 Description
A classic Kentucky Bourbon: There are lovely notes of spiced honey and mixed peels, a little malmsey, hazelnut and a touch of cut fruit with toasty oak providing a backbone. Rich and full palate with notes of rye and spice, barley malt, a little nut oil with butterscotch and vanilla.
Country: USA
Size: 0.75L
Packaging Details: 75Cl bottle
Alcohol Level: 45
Meminum Arak Boleh Membahayakan Kesihatan.

Hanya dijual kepada golongan umur 21 tahun ke atas dan bukan muslim sahaja.
We think you might want this too :D