Roll over image to zoom in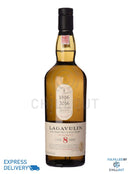 Description
A touch of burnt sugar sweetness lingers. Smokey peat appears first on the palate, followed by coriander seed, barley sugar, cumin powder, smoked kipper and marzipan. Layers of apple crumble, toasted almond and ash in the finish.
Country: Scotland
Size: 0.70L
Packaging Details: 70Cl bottle with box
Alcohol Level: 48
Meminum Arak Boleh Membahayakan Kesihatan.

Hanya dijual kepada golongan umur 21 tahun ke atas dan bukan muslim sahaja.
We think you might want this too :D