Roll over image to zoom in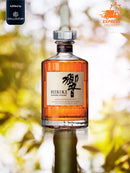 Description
Harmony – a rather apt word to describe this well-balanced Japanese blended whisky from the Hibiki range. Hibiki Japanese Harmony is made with malt whiskies from the Yamazaki and Hakushu distilleries, as well as grain whisky from the Chita distillery. The whiskies are drawn from 5 different types of cask, including American white oak casks, Sherry casks and Mizunara oak casks. The blend itself was crafted by the Suntory Whisky blending team, led by Master Blender Shingo Torii. An elegant expression, with wafts of honey, orange, a herbaceous touch or two and light oak.
Country: Japan
Size: 0.70L
Packaging Details: 1 x 70Cl bottle with Box
Alcohol Level: 43
Meminum Arak Boleh Membahayakan Kesihatan.
Hanya dijual kepada golongan umur 21 tahun ke atas dan bukan muslim sahaja.
We think you might want this too :D