Roll over image to zoom in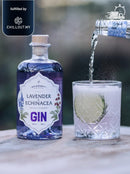 Description
The backbone for this gin is Juniper and Coriander where the seeds and berries are lightly crushed, Angelica root and the subtler flavours of the Angelica leaf are used in conjunction with Winter Savory, a plant not dissimilar to Rosemary but with more subtle notes. These four botanicals offer a smooth, elegant and light base gin, to which we add freshly distilled Lavender. This versatile and beautiful flower has been used for thousands of years thanks to its antiseptic and anti-inflammatory properties and works wonderfully well in our gin; providing a soothing aroma and a slightly sweet and floral taste. With countless medicinal and healing properties, lavender is used as a cure for insomnia, so this gin is perfect at the end of a hard day. Echinacea is another flower which has long been used in treating ailments and is known to boost the human immune system. Rich in phenols, a powerful antioxidant, its beautifully floral taste and aroma complements the lavender perfectly; resulting in an amazingly well-balanced gin with a romantic deep purple colour.
Country: Scotland
Size: 0.50L
Packaging Details: 50Cl bottle
Alcohol Level: 39
Meminum Arak Boleh Membahayakan Kesihatan.

Hanya dijual kepada golongan umur 21 tahun ke atas dan bukan muslim sahaja.
We think you might want this too :D