Roll over image to zoom in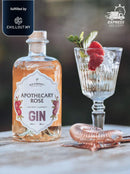 Description
The backbone for this gin is Juniper and Coriander where the seeds and berries are lightly crushed, Angelica root and the subtler flavours of the Angelica leaf are used in conjunction with Winter Savory, a plant not dissimilar to Rosemary but with more subtle notes. These four botanicals offer a smooth, elegant and light base gin, to which we add freshly distilled Apothecary Rose. This is one of the most celebrated of all ancient roses and was believed to have been introduced to these shores by knights returning from the Crusades in the 12th or 13th Century. Known to botanists as Rosa gallica officinalis, it has long featured in the Pharmacopoeia and has been prized for its restorative powers and beautiful, bright pink petals. With hints of Turkish delight and brown sugar on the palate and potpourri on the nose this is a gorgeous, smooth gin that is as refreshing as it is beautiful; just add tonic and watch it transform from shimmering gold to bright pink in honour of this noble rose's petals.
Country: Scotland
Size: 0.50L
Packaging Details: 50Cl bottle
Alcohol Level: 39
Meminum Arak Boleh Membahayakan Kesihatan.

Hanya dijual kepada golongan umur 21 tahun ke atas dan bukan muslim sahaja.
We think you might want this too :D