Roll over image to zoom in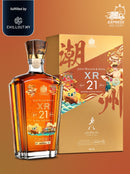 Description
The final addition to The Legacy Collection presents the Teochew people's belief in Xuan Tian Shang Di (God of the Profound Heavens) as they value their beliefs and have a tradition of public service to the community. This is seen through the many temples in Malaysia that are older than a century, including the Johor Ancient Temple that was founded by local Teochew people. Looking into arts and crafts, the Teochew community dabbled in arts such as embroidery which was widespread throughout China in the Qing Dynasty. Chaozhou embroidery is a type of Yue (short for Guangdong) embroidery, originating from Chaozhou, well-known for its exquisite beauty, meticulous compositions, and three-dimensionality which can be widely seen and used as decoration by the Malaysian Teochew during religious activity and festivals. Another craft of the Teochew community is the iron stick puppet, a famous folk opera where Teochew opera artists started their careers. Finally, dishes such as Teochew fish balls and porridge are seen on the pack design, which are staple dishes for the community.
Country: Scotland
Size: 0.75L
Packaging Details: 75Cl bottle with box
Alcohol Level: 40
Meminum Arak Boleh Membahayakan Kesihatan.

Hanya dijual kepada golongan umur 21 tahun ke atas dan bukan muslim sahaja.
We think you might want this too :D