Roll over image to zoom in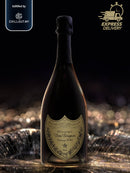 Description
The creation of Dom Pérignon Vintage 2010 took equal parts mastery and humility. I hope it never ceases to inspire you.
Country: France
Vintage: 2010
Size: 0.75L
Packaging Details: 75Cl bottle with 2 Premium Flutes
Alcohol Level: 12.5%
Full, energetic and expressive, Dom Pérignon 2010 is a vintage with a strong personality that represents the maison's unwavering commitment to the power of nature. Born in an exceptionally challenging year, this vintage has spent more than a decade in the Dom Pérignon cellars and is now ready to be enjoyed in all its fiery glory. There's no denying that this year in the Champagne region was a challenge. It experienced the lowest temperatures since 1996, and winter frosts and a dry summer were followed by intense rainfall – the equivalent of two months worth in just two days. Despite these difficulties, the grapes had an elevated sweetness, and came into the vineyard in excellent condition.
Meminum Arak Boleh Membahayakan Kesihatan. Hanya dijual kepada golongan umur 21 tahun ke atas dan bukan muslim sahaja.
We think you might want this too :D