Roll over image to zoom in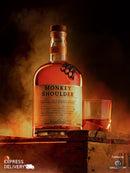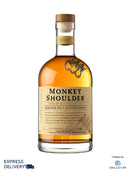 Description
A best selling whisky, the Monkey Shoulder Whisky is actually a mix of three different single malts – Glenfiddich, Balvenie and Kinninvie. The three malt components that form Monkey Shoulder blended malt scotch whisky's smooth, malty and fruit character is a closely guarded secret, featuring an undisclosed combination of different Speyside single malts.
Country: Scotland
Size: 0.70L
Packaging Details: 70Cl bottle with box
Alcohol Level: 40
Meminum Arak Boleh Membahayakan Kesihatan.

Hanya dijual kepada golongan umur 21 tahun ke atas dan bukan muslim sahaja.
We think you might want this too :D